Benefits in many shapes and forms

Ask any pool owner, and they'll tell you that the rewards of pool ownership include benefits to your home life, your health, and your wallet. Here are just some of the ways pool ownership will improve your quality of life: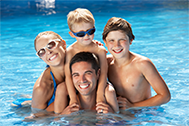 Connect with Family – A pool provides endless hours of fun and entertainment, bringing families together in unique and memorable ways and giving your children extraordinary experiences that will last a lifetime.
Relax and Rejuvenate – Whether it's a morning swim to wake up or an after-work swim to unwind, your pool will fill your needs, any time of the day.
Entertain – Whatever the event, a swimming pool offers a perfect setting for entertaining with friends and with family.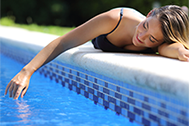 Swim into Shape – Aquafitness helps shape, tone, and energize your body. Just 15 minutes a day can make a significant difference!
Increase Your Home's Value - Realtors agree that an inground pool is a hot commodity and a valuable home investment the whole family will enjoy.
Save on Travel Costs – Having a pool reduces family summer vacation expenses* and will save you hours of travel time.
Take Advantage of the Timing - Having a pool installed today is much more affordable than it used to be, given the current building construction economy. Ask your Matrix Certified Builder for more details, and for the many financing deals currently available.

*Harrison Group Poll – 2011-12 APSP Consumer Research Program – Inground Pool Market Assessment.
**American Express Summer Travel Survey, 2012.