Luxury Pool Entry Systems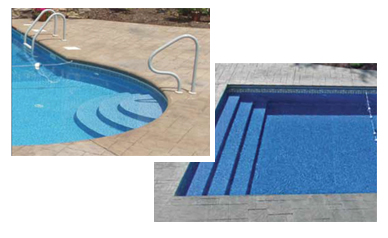 More than an entrance point, the stair system you select is an integral part of the swimming experience: It can be a gathering or lounge spot, a tanning bed, or a practice area for your kids as they develop their swimming skills, just to name a few. We have the most aesthetically pleasing steps on the market, with a vast number of options, from wedding cake stairs and bench combinations to cuddle coves to sun decks and so much more!
---
Built-In Stairs

Our vinyl-covered Polymer steps bring the interior pool finish onto your steps, giving your pool a uniform, aesthetic beauty.
Choose from our many models, from full-end to corner, from straight to radius, from multi-level to combos, or invent the Pool Entry System of your dreams, in any shape or in any size. Your Certified Legacy Builder is ready for your request.
---
Imperial Pools Entry Systems Brands